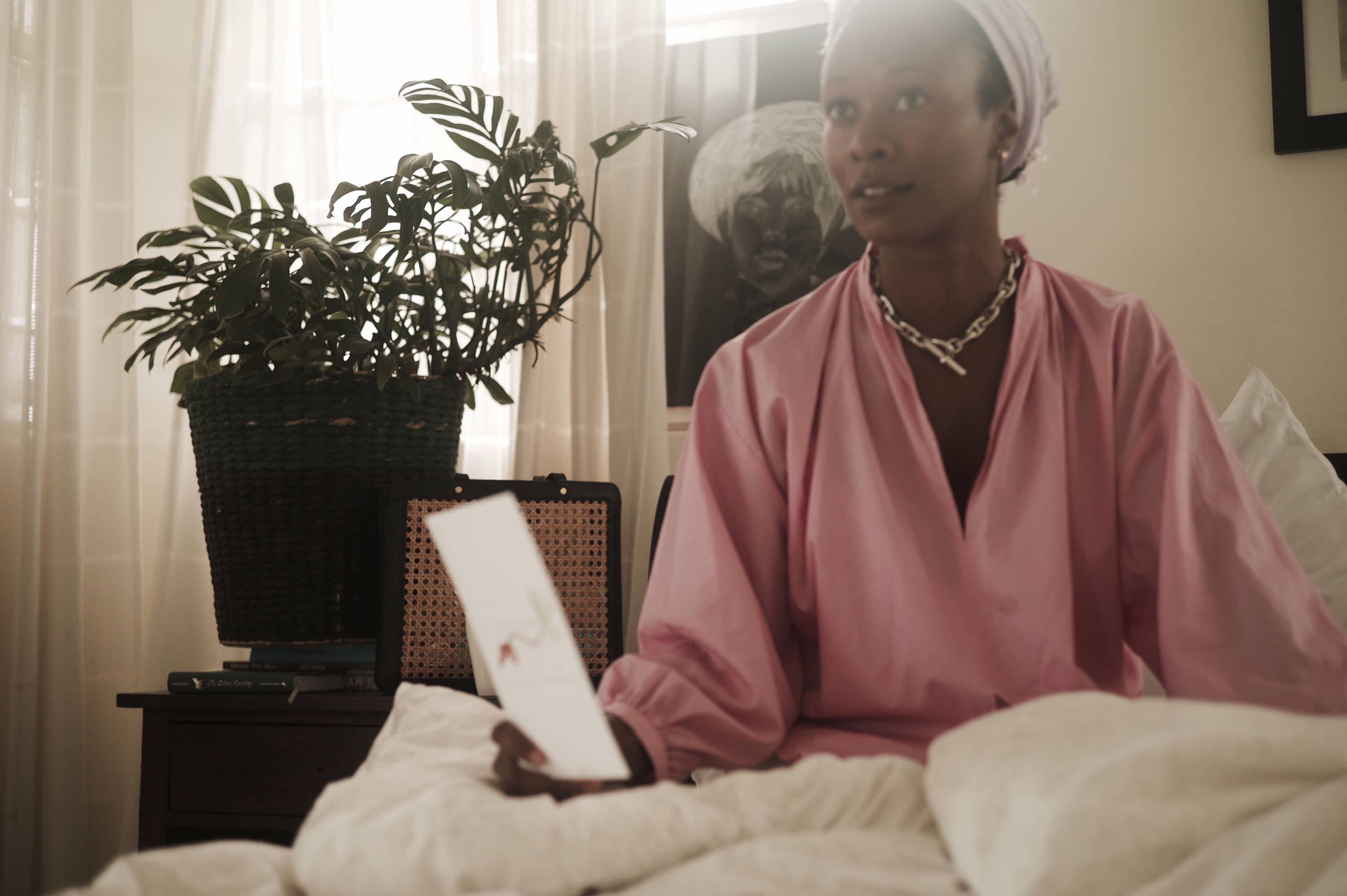 Some women defy categorization. Shala Monroque is one such woman. She arrived in New York at the tender age of 19 from her native St. Lucia, and in the decade that followed, became one of the most highly respected tastemakers in the global fashion and art scenes. For the former Creative Director at Garage and muse of Miuccia Prada, style is something that appears to be so innate that she commands the very definition of the word. We got the chance to catch up with Shala, who has since forgone the front rows of Fashion Week for the sandy shores of St. Lucia, to discuss her legacy, life in the Caribbean, and how she feels about the world she left behind. 
We are excited to present her intimate self portraits to accompany this exclusive interview
Interview by: Julia Reiss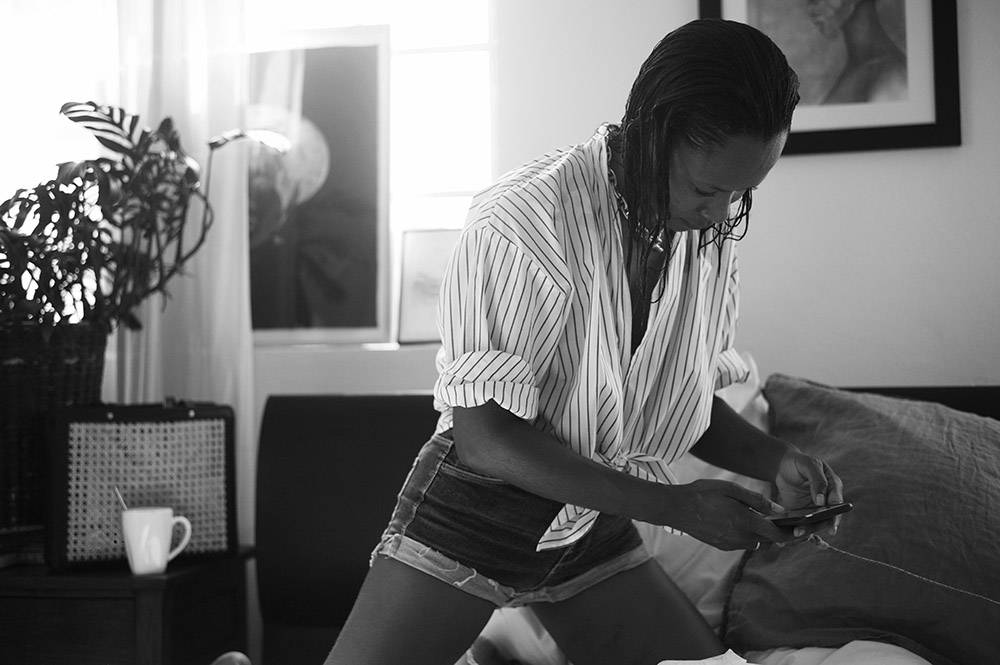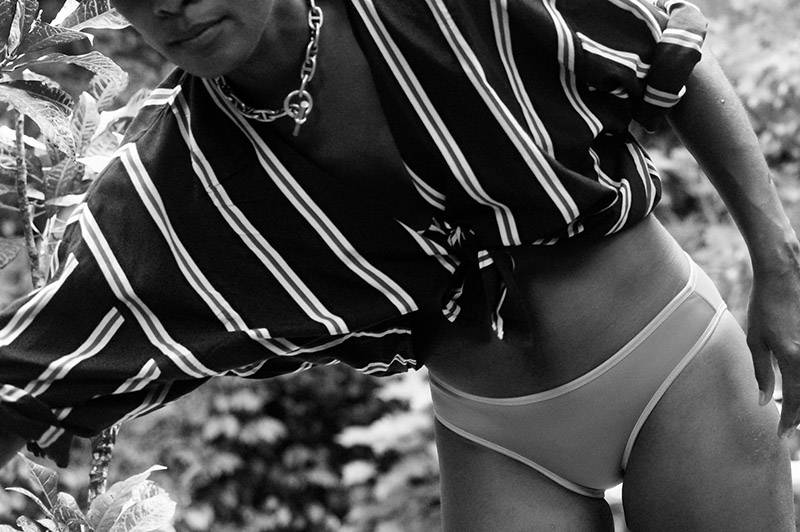 So, Shala...you're a street-style icon, editor-at-large, art world ingenue, front-row fixture, muse, please tell us how you got your start. We're taking notes.
[Laughs.] Well, I feel like I'm not any of [those] things. I stepped away from all that about four years ago, so it kind of feels like a completely different reality. I moved back to St. Lucia—I live in the mountains, really. So it's like the direct opposite of Manhattan. I think I wanted a break from all of what you just said.
Is that what prompted your move—the desire to take a step back?
Yes, partly that. Partly, it was because I started spending more time at home, and I was just happier there. I had more fun when I was at home, so I decided to be where I was happy.
Wise. So, I'm very curious… what was it like being one of Miuccia Prada's muses and how did that happen?
I don't even know! Well, I guess at the time in the art world, I was around different kinds of people. And what really happened [was] that I had a blog at Pop, and I used to write a lot and post pictures. This was just before Instagram or the the very beginning of Instagram, and I would post images with short captions of whatever I was seeing at the time. I was traveling quite a bit [then], so it was pretty wide-ranging content. Then I got approached by Nicolas Ghesquière at Balenciaga to be their brand ambassador. But then I felt that out of respect, because I had a relationship with Miuccia Prada already, that I should let her know. And then they decided that they would rather have me at Prada than go with Ghesquière.
If there's one piece of advice you would give your 19-year-old self coming to New York, what would it be?

That's a good question. [Pauses.] I don't know… I don't have any advice to give my 19-year-old-self. I probably would have just done what I wanted anyway. Maybe that's not true. I think a big part of my success has been being able to pick apart advice, so I don't know. What would I have done differently? New York was pretty different, you know, for me, coming from where I was coming from. It was really wild.
What was that transition like?
I kind of stepped back for a year, because it was really so daunting. I still have a really clear picture of the first time I ever saw an aerial shot of Manhattan. I was probably about 12, in geography class, and I just thought, "How does anyone navigate that?" It seemed like a computer grid or something, and it just seemed so overwhelming. Once I got to New York, and I was on the ground, it did feel like that. I remember my first day of work at my first job, and that was at a photostudio… just taking the bus and the train. I guess I have a pretty photographic memory, and in my head, I remember feeling like I was going through that grid.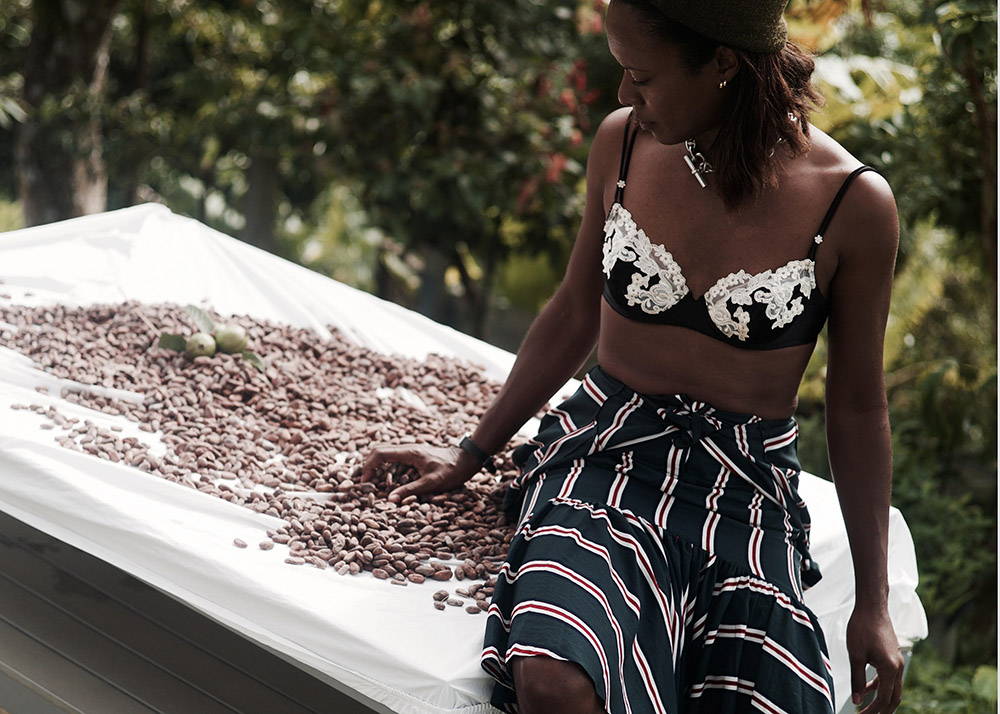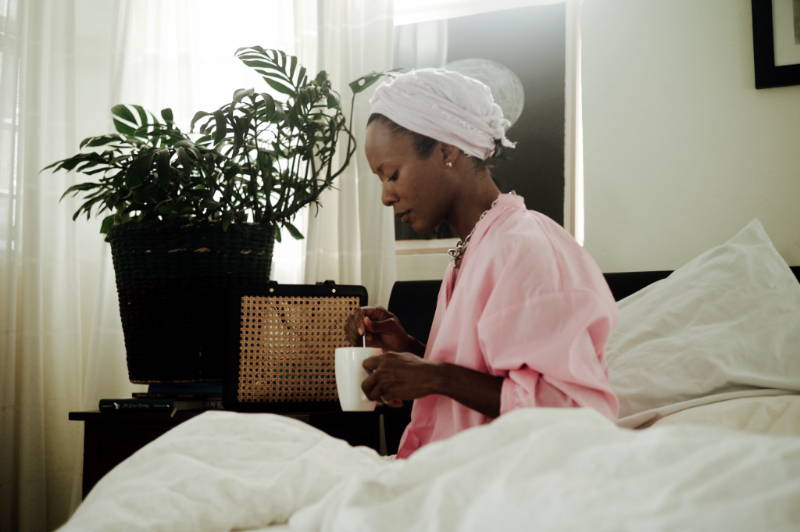 As a muse, who are some of your muses? Who do you look to for creative inspiration?
You know, when I first starting hearing that question about style icons, again I don't come from that culture, so it's a pretty weird question for me. That was just not something that was in our vocabulary or our imagination. I think the closest thing we had to that growing up, and that's probably when fashion started becoming really popular and mainstream, was Michael Jackson's red jacket. We kind of just get dressed, and everyone wants to look good in the Caribbean.
I want to hear more about that. You seem very connected to your culture. How did your Caribbean background inform your path or the way you approach style?
The Caribbean has a really big and wide history, and geographically it's very close to America as well, so culturally we have a mix of everything I think. There's a lot of European influences, even a lot of American influences as well just from television. Music was a pretty big influence in my teens. There used to be a Caribbean TV show with Rachel Stuart, I can't remember what it was called now. It was every Saturday with all the latest dancehall songs. Come to think of it, Patra, probably. She was a big fashion influence for women in the Caribbean and Rachel Stuart as a host. I think it really had more, and still does has more to do with the attitudes of the people and how they carry themselves, and you want to emulate that. Rihanna as well, she resonates because of that idea.
Well, to be fair, I don't think everyone can do that like you.
Maybe… I find it hard to explain.
I think that makes sense. If you were to ask me, you're style is so uniquely personal, like if anyone were to wear one of your outfits, they wouldn't look as good. Does that make sense?
Oh, wow. Thank you! I guess it is really personal. Yes. It's a mix-up of my experiences. And memories. I guess clothing is attached to memories as well.
I think that's a really nice idea: style as experiential. So often, we think of clothing as expressive.
It is, but it's also about how you want to interact with the world, you know? Depending on the experience that you want to have when you have when you walk out the door. If you want to be bothered or not, or if you want to stand out, or where you're going. Maybe that's a bit of a Caribbean thing, because there are church clothes, and there are Sunday clothes. It's [about] dressing for an experience.
I know you've taken a step back from fashion, but if there's one thing you would like to see more of in that world, what would it be?
In fashion? Maybe less of it. [Laughs.] Less fashion in quotation marks. One of the things that's been nice about being removed is that I feel like I consumed a lot, and now I appreciate more. I got rid of a lot of clothing, but now I enjoy certain pieces that I've had for years and years and years, and I still wear them, even if they're falling apart. But maybe that's just my experience. I think some things are so beautiful and are meant to be enjoyed instead of [being] so disposable. I mean, it takes a lot to make a garment at that level. I think of someone like Raf Simons or Miuccia, or Alaïa, and how much goes into creating something so beautiful. To just wear it and discard it is kind of just sad.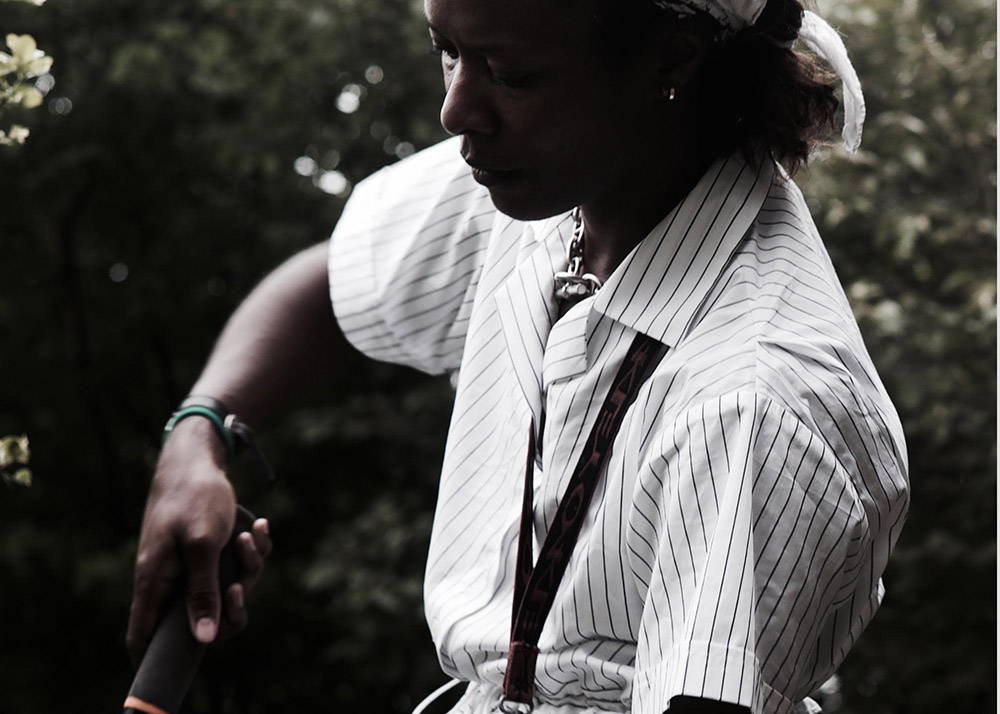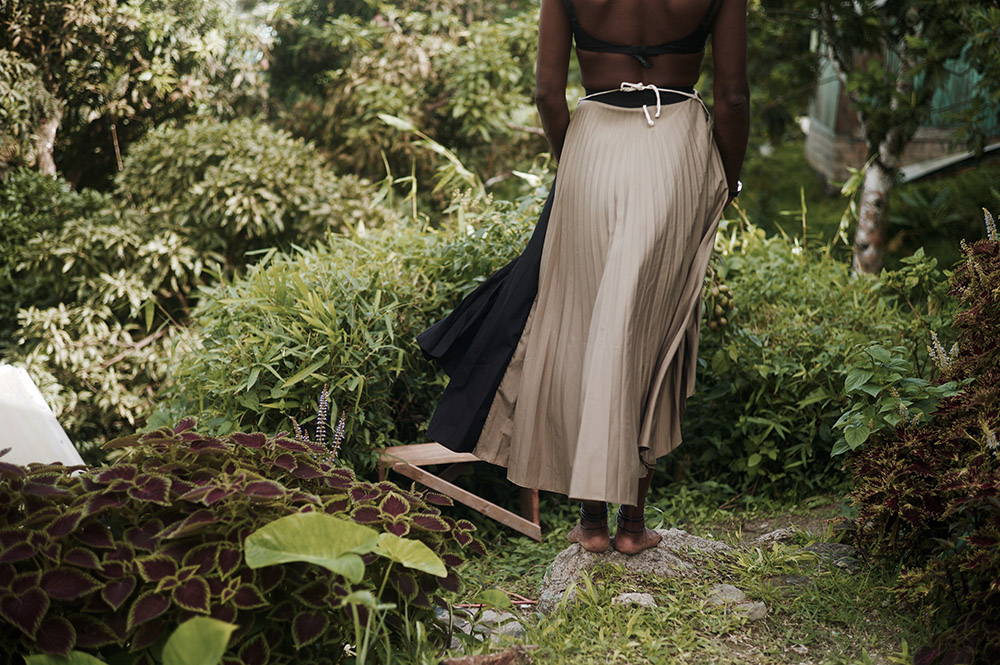 So you're in St. Lucia right now, and I'm not so secretly jealous. Walk us through a day in the life of island living.
Oh my god. [Laughs.] Well, I've decided to live in a very rural community, so that's different from the typical life of someone in St. Lucia. So, it's really country living. My days don't really have a clock in them. I guess I rise with the sun, and I go to bed earlier. It's more of a natural rhythm now. The garden plays a big part of my life. I'm kind of obsessed with planting and growing stuff. I wanted that to be what formed my routine and start to do something creative within that. I think nature is meditative and calming. Doing the pictures for Tome has been a nice break from that—to kind of play with my creativity. I've never done selfies like that, so it was really fun and interesting.
If not fashion and art, what has been your focus now in St. Lucia?
Family, the farm, and photography—documenting the village as well while I'm here, and also the island, with a heavy focus on people, and really kind of strongly [focused] on black men here.
Have you always been interested in photography?
Someone gave me a camera when I was 15, and from the moment I held it up to my eye, it changed the way I see everything. When I first moved back here, I was in the countryside where I live now, and I was just chatting with this farmer. It was Sunday morning and it was raining outside. I just took this picture, and I got chills all over, and I knew this is kind of what I need to do.
Be honest now, do you miss anything about New York?
Not really. Maybe a Mister Softee once in a while.
Okay, one more VERY important question: heels or flats?
Right now, flats. I never wear heels, AT ALL, ever, anymore. I don't know if it's an age thing or… I mean, I tried wearing flats more and more, before I left fashion. I was just in New York, and I wore heels. I went to the Met Ball. It was kind of bad because I was taking pictures—I decided I wanted to document that as well—and I couldn't really stay because I had such bad blisters on my feet. That was kind of an "I'll never wear heels again" moment.
I love that you made a casual drop-in to New York for the Met Ball.
I know! But it sort of just happened. I pinch myself as well.